Festival UROBOROS 2021:
Designing in Troubling Times #2


5-18 May 2021, online

initiator, co-organisor, curator, designer

The Uroboros – Designing in Troubling Times is a hybrid festival and community network performing experimental inquiry into the transformative potential of design research and practice. Our collective inquiry and activities are inspired by the ambiguous symbol of Uroboros – a serpent devouring itself and changing its form in an eternal cycle of re-creation, using its own body as fuel. The circular and cyclical Uroboros captures the ambiguity of present technologies and designs for the troubling and troubled times that we are living in. Asking what design can do to support positive change, we explore the cyclical processes of design imagination, innovation, failure and return.





The Uroboros festival brings together people from different disciplines to join workshops and other participatory formats, in order to discuss our position as creators in the current troubling times. The 2nd year of the festival brought in total 53 online events in 12 days-long programme.




The visuals for the 2nd year of the festival are reflecting the main theme Designing in Troubling Times and are an outcome of critical investigations in generative neural networks. A customised StyleGAN model was trained in order to generate base for the festival visuals, replacing the otherwise mundane task of producing huge amounts of visual materials. The generative neural network TroublingGAN, which was trained on images representing "troubling times", was able to recognise patterns within the dataset (news photography of 2020) and thus define an "essence" of the observed object - the troubling times. This essence is then being projected on the generative model's outcomes: a visually ambiguous synthetic visuals carrying the troubling-ness as their affective quality. Read more about how TroublingGAN was made and the research behind it here.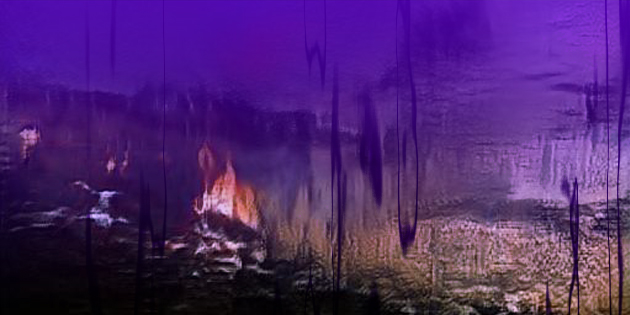 example of visual experiments with TroublingGAN outcomes


TroublingGAN outcomes implemented in backgrounds


dress-code for Zoom livestreams

This edition of the festival also introduced a programme track dedicated to critical reflection of synthetic media and artificial intelligence under my curatorship: Shaping the Future Synthetic Realities. Besides 4 participatory workshops, the track offered a lecture by artist and theorist Joanna Zylinska, presentations of artists Chris Kore, studio Entangled Others, Zuzana Husárová & Ľubomír Panák, a panel discussion on shaping of the synthetic realities with Pinar Demirdag (Seyhan Lee), Chris Kore, Martin Zeilinger and Palo Fabuš, and a student forum on the future of AI (Center for Audiovisual Art FAMU Prague & Digital Arts AFAD Bratislava).


talk by Joanna Zylinska - We Have Always Been Artificially Intelligent (YouTube)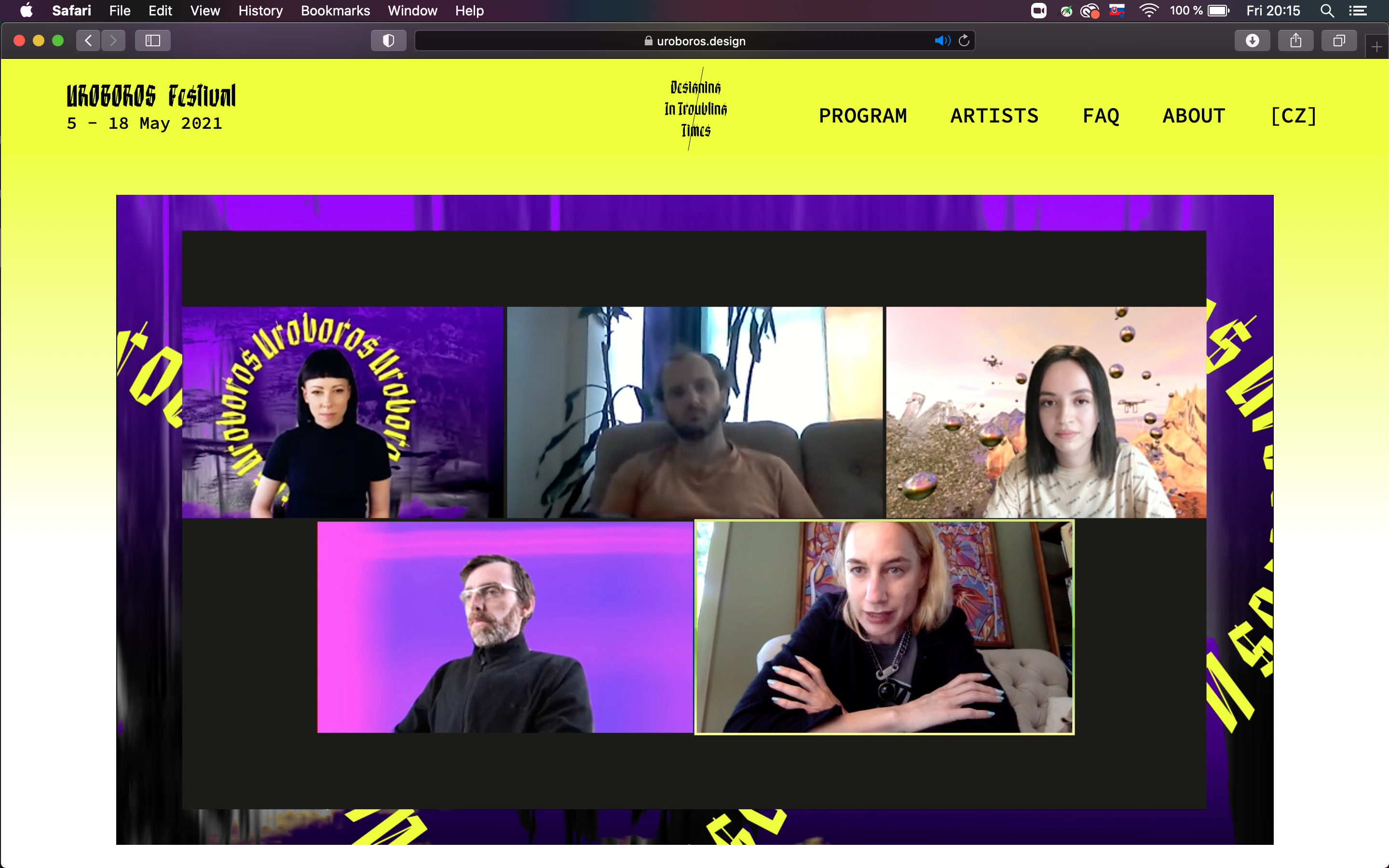 UROBOROS 2021: 5-18 May 2021
https://uroboros.design

Artists:
L.P. Agudelo (COL), C,Ampatzidou (GR/NL), K. Balážiková (SK), I. Beavers (USA), The Blackwood Incident (SK), A. Botero (COL/FI), V. Čechová (CZ), Care-full Design Lab (K. Geck & J.H.Choi & S. McCarthy) (AUS), City as Spaceship (J. Cunningham & S. Fairburn (UK/CAN), Crawlers (L. Walsh & J. Cockerill) (AUS/DE), A. Csefálvay (SK), D. Čupková (SK), P. Demirdag (USA), DADA.NYC (B. Ramos & J. Mamm & L. Verle & Sparrow) (USA), A. Desponds & P. van Kemenade (PL/NL), Diffraction Collective (CZ), M. Dolejšová (CZ/FI), A. Fa'aleava & L. Thanh Ha & N. Junpiban & N. Narain & K. Gonsalves (AUS), P. Fabuš (SK), Časopis Fůd (B. Müllerová, V. Homolová, L. Žatkuliaková, V. Gallardo, N. Horvat) (CZ), K. Gentnerová (CZ), D. Green & J. Lindley & Z. Mason (UK), A. Hanafi (EG), Hermetechnics Inc. - K. Valisová & J. Fiala (SK), A. Hugill (UK), Z. Husárová & Ľ. Panák (SK), L. Chen (USA), L. Likavčan (SK), International Dog Internet Research Institute (B. Kirman, C. Linehan, S. Lawson) (UK), Denis "Jaromil" Roio (IT), J. Jelačič (CZ), C. Kore (NL), D. Knoblochová (CZ), J. Lanc (CZ), Dr D. Little (USA), L. Lotti (AUT), MARAKI - M. Maraky (SK), M. Marcus (UK), F. McCormick (DE),R. Novotný (CZ), N. Piet (NL), A. Pokrywka (PL/FI), M. Ponomareva (NL), , K. Přidalová (CZ), D. Suchý (SK), Vesmír a technická obsluha - G. Bezáková (SK), B. Vitázek (SK), Vrtačky po desáté hodině (SK), N. C. Woytuk & M. L. Juul Søndergaard & K. Helms (SE/NO), I. Zamuruieva & E. Hurst (UK), M. Zeilinger (AUT), J. Zylinska (UK)

Curators:
Markéta Dolejšová (CZ), Enrique Encinas (ES/DK), Lenka Hámošová (SK), Denisa Kera (CZ), Michal Kučerák (SK)


Partners:
CreaTures - Creative Practices for Transformational Futures
DOX - Centrum pro současné umění, Praha
FUGA - priestor pre chýbajúcu kultúru, Bratislava