Co-Creation with AI Algorithms: participatory perspectives to AI-media synthesis
research workshop, 2023
As we dive deeper into the digital age, artificial intelligence (AI) continues to revolutionize various sectors, including artistic practice. There's a growing enthusiasm as well as apprehension among artists and creative practitioners regarding the possible implications of AI and the futures it might bring about. Questions arise, for instance, around the co-creative process of AI-media synthesis stemming from deep artistic exploration of AI tools: How to balance and cross-pollinate the inputs of human artists and AI algorithms in a co-creative process? How can we use AI to creatively engage our emotional presence and bodily experiences? What hiccups and glitches can happen on the way?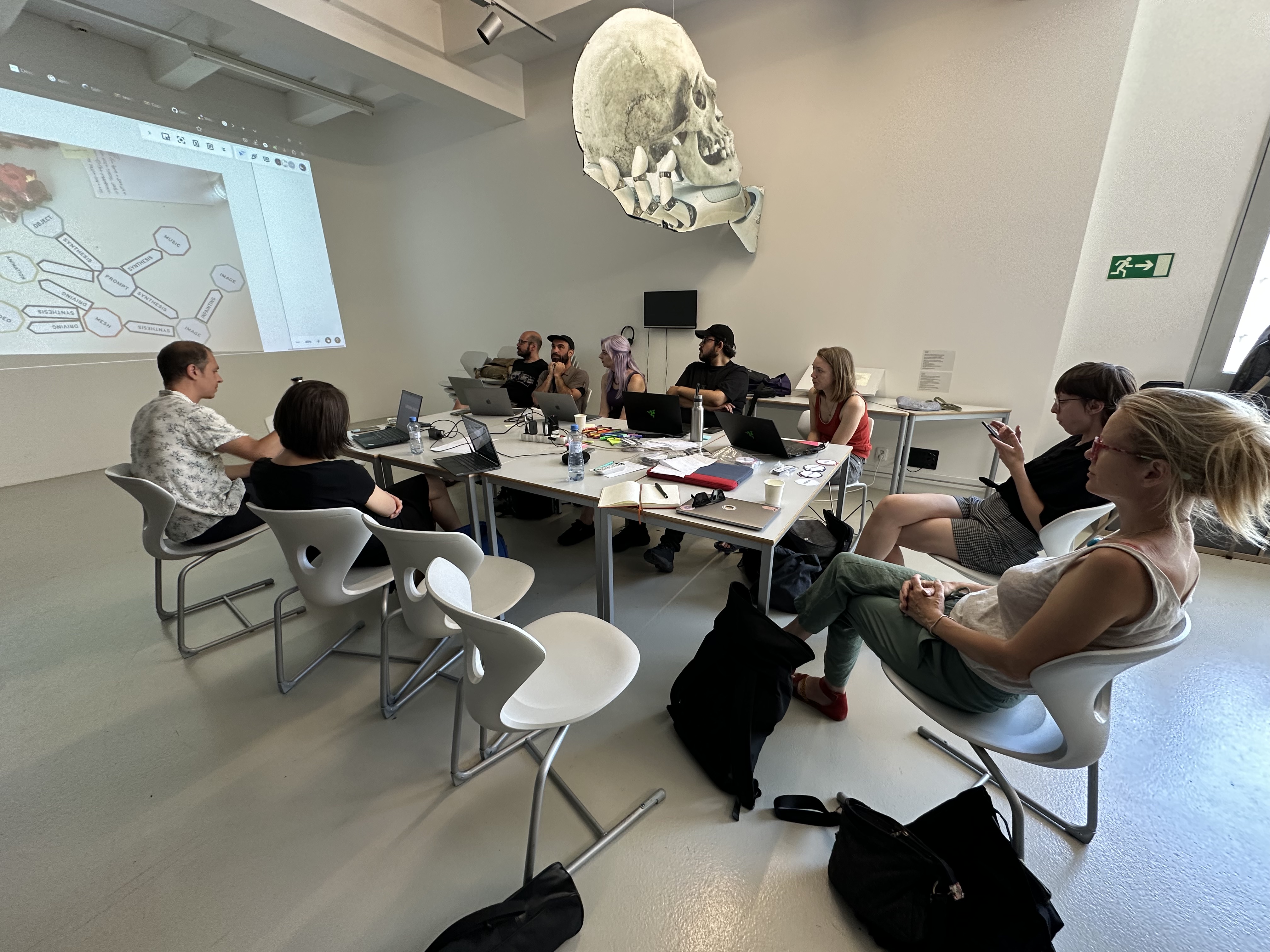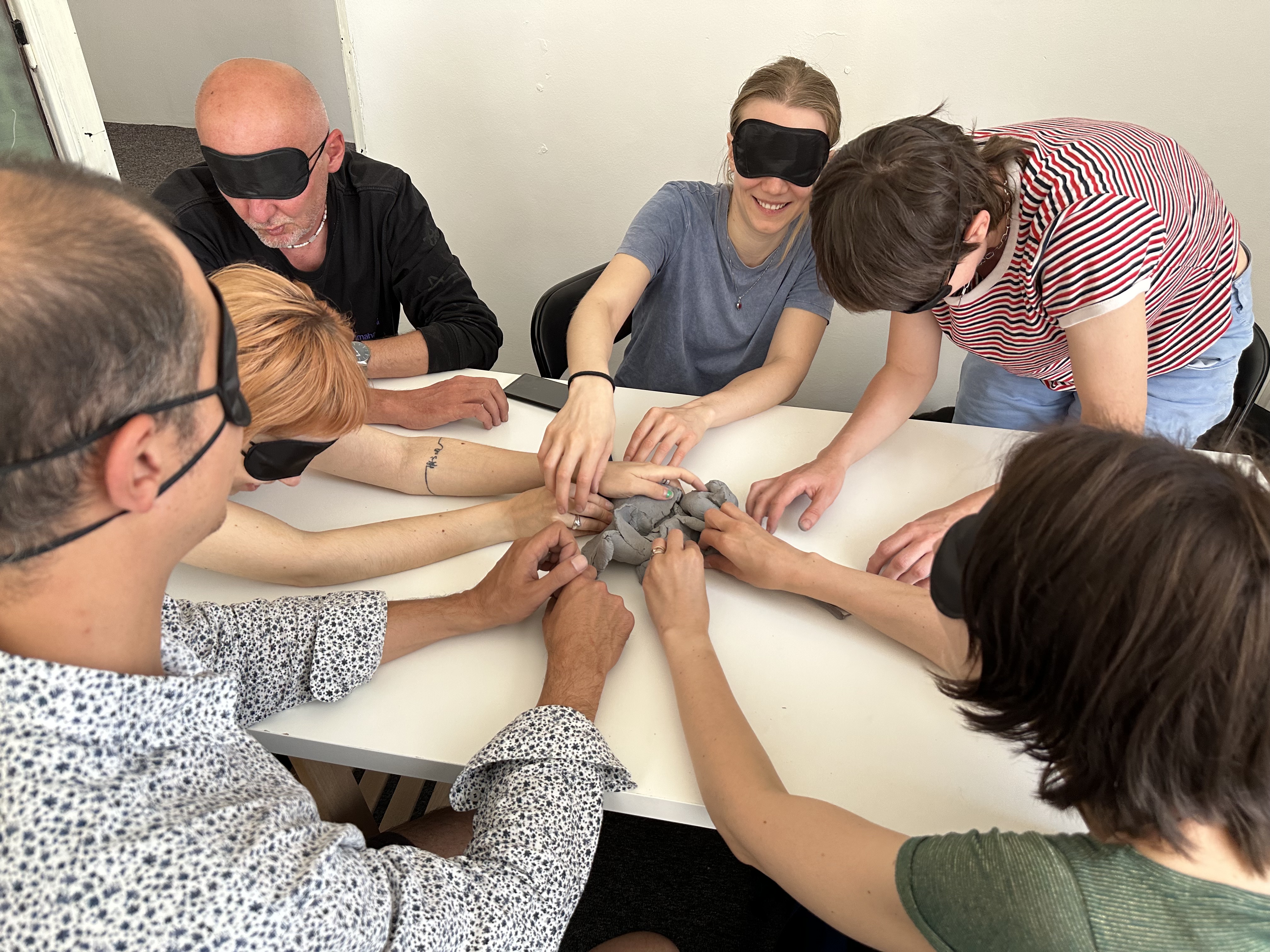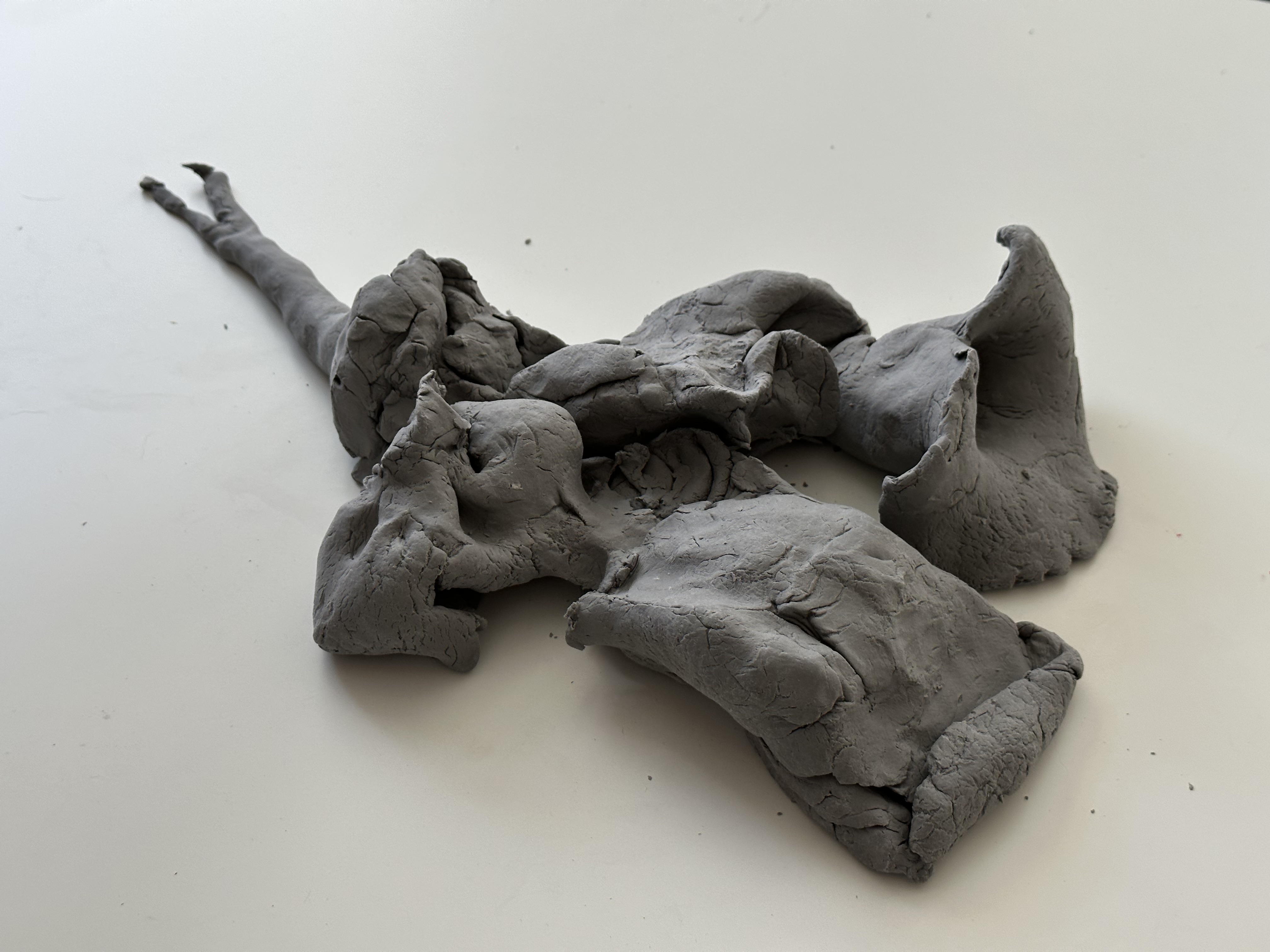 This research workshop gathered artists and researchers in the field of creative AI to collectively explore both the embodied reality and participatory perspectives of AI-media synthesis.

The workshop was initiated by a collective tactile exercise facilitated by Tereza Stehlíková, which triggered a number of intriquing questions about the limits of co-creation as well as the importance of acknowledging the physicality and sensory experiences.

The physical artefact - a co-created blob of clay - inspired an iterative string of further human-AI co-creative experiments.




The preliminary outcomes were presented to the public during a pilot creative AI meet-up organized by Uroboros collective "How to Art with AI". The audience could experience the tactile exercise on their own skin and was invited to reflect on it in a group discussion.
The workshop will be documented and reflected on in a visual essay and a research paper.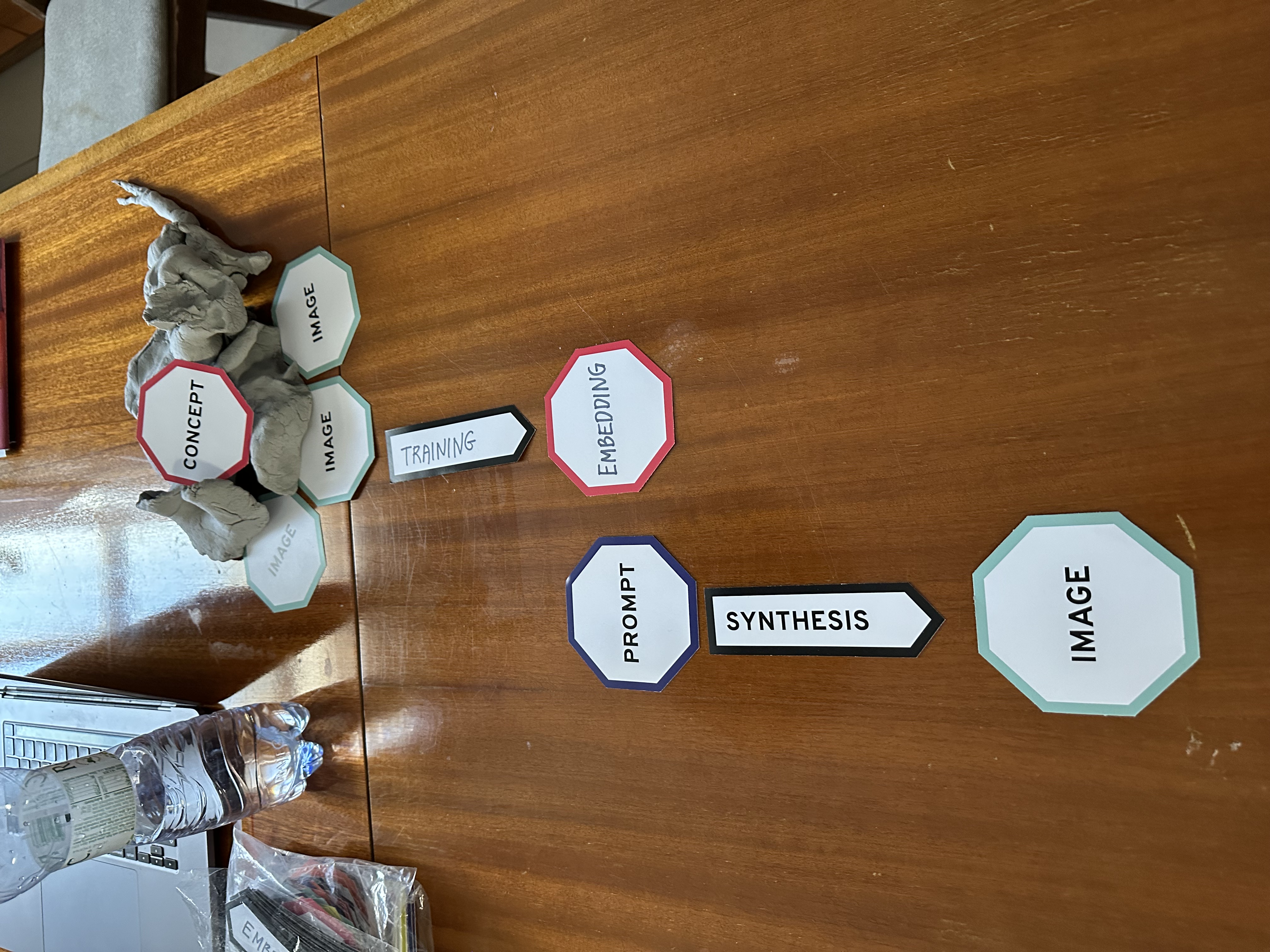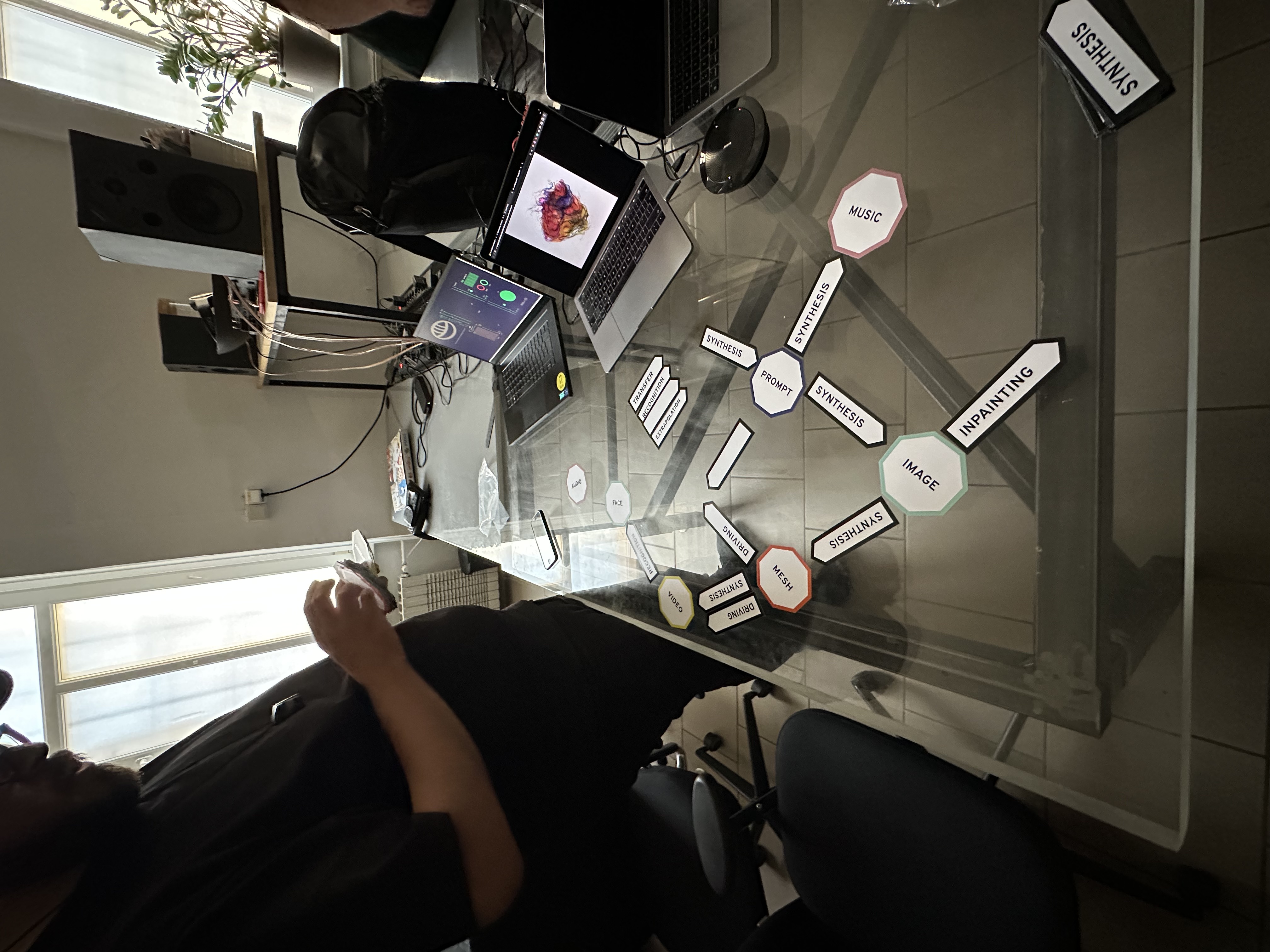 WORKSHOP: Co-Creation with AI algorithms: participatory perspectives of AI-media synthesis

7-8 July 2023, Petrohradská Kolektiv, Prague

- part of the research project Generative Neural Networks and Human Imagination: Participatory Approaches to Synthetic Media Production / FAMU, Academy of Performing Arts in Prague, CZ
- workshop was prepared in collaboration with:

Scy Heidekamp (NL), Zuzana Husárová (SK), Moisés Horta Valenzuela (MEX/DE), Tereza Stehlíková (CZ), Enrique Encinas (ES/NO)
- workshop participants: Tereza Stehlíková (CZ), Alexa Steinbrück (DE), Laura Wagner (DE), Georgy Bagdasarov (CZ), David Kořínek (CZ), Tomáš Rampula (CZ), Scy Heidekamp (NL), Zuzana Husárová (SK), Moisés Horta Valenzuela (MEX/DE), Enrique Encinas (ES/NO)